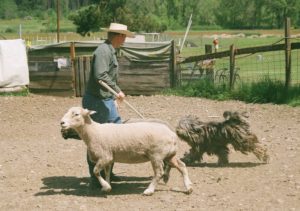 "We found Gabe to be a natural dog trainer. The seven years he was stationed here at Ft. Lewis in Roy WA, he spent any free time he had learning about herding. We are an extremely busy place here at Ewe-topia Herd Dog Training . We figure Gabe handled and instructed at least 2,000 dogs of all breeds and mixes while he was here. From the softest temperament to the hardest headed dogs and all those in-between, Gabe gets the best herding ability out of each dog. Gabe not only handled the dogs well, but he was great with the people too.

Gabe is straight forward, polite and personable. With all this going for him, we think he will be very busy with his own training facility. Any dog owner that takes lessons from Gabe will find this out pretty quickly."
***Joe Kapelos & Linda Leeman. Owners of Ewe-topia Herd Dog Training LLC,
Roy, Washington. 25 Years in business and still going!
"I've had the pleasure of meeting and working with Gabe for the last few year at Ewe-topia Herd Dog Training Facility.
He has a natural ability to work well with stock, dogs and humans, that you don't often find in folks. I suspect his 10 year in the military, as well as a strong upbringing helped to mold the outstanding man he is today.
Gabe has innate instinct when handling dogs and stock. I own and raise young adult Pitbulls from rescue situations. I currently have an 18 month old, 80 lb male pitbull with very, very strong prey drive (Buck). Gabe jumped right into the arena with Buck and got started setting him on the path to being a great working stock dog.

I've seen Gabe work Border Collies, Aussies, Pitbulls, Poodles, Pomeranian and every other breed of dog that comes to Ewe-topia.
He Manageds to combine the strength to handle the tough dogs, as well as being gentle when needed for the more shy, unsure dogs.
I would HIGHLY recommend Gabe as a trainer, a leader and all around fine human being.
I will miss him at our training facility and know that whatever he ends up purusing post military career, it will be done with grace, honesty, discipline and strength.
Thank you for serving our country Gabe. It's truly been my honor and pleasure to know you."

***Julie Moorer-RN at VA Puget sound Healthcare System. Lakewood, Wa**
"Gabe has helped so much as Bonny and I have started working in the big field. His easy going manner allows me to focus on suggestions of how to work through a situation. He has offered things to try with my sheep at home. Gabe's skill and knowledge of sheep and dogs let him make practical suggestions for my person situation.

I've enjoyed getting to know Gabe and learned about his future plans for sheep, herding and leather work."

***Tom Touse & Bonny (Border Collie) Ettonville, Wa***
 I have known Gabe since he first started coming out to Ewe-topia Herd Dog Training, in Roy, Wa (sic). while he was in the military. In a very short time he became an instructor. Gabe is very friendly and personable which he carries over


to his herding ability. He is not only very fair, he makes herding very fun for both the dog and the owner.

My dog is not a herding breed but he absolutely loves herding, especially with Gabe.  Gabe is also a very talented leather worker, leash and collar maker. I have purchased several leashes from him. I am very proud to know Gabe and to call him my Friend.
*** Mary Norton, Owner of Conformation Champion Staffordshire Bull Terrior. Tacoma, Wa***
"Great place for begging dogs and handlers...great setup with nice round arena and nicely dog broke sheep. Even my advanced dog had a blast. If you ever thought you wanted to see if your dog (any breed) had herding instinct, this is a nice and convenient place to go with safety of the dog, handler and sheep in mind."

~Annette Hoffmann~

WTCH HC HTCH SVCH ATCH ALT-CH Grandeur's Social Rainier ASCA/AKC CD ATDcds PATDs GV-E-OP JV-E-OP RV-E V HTD-IIIds HRD-IIIs HTAD-IIIs